My home is beautiful Upper Swabia and I simply love the Swabian recipes. For me, the kitchen is not only a feeling of home, but also pure comfort food. Not only is it hearty, it can also be lighter, so there is something for every taste.
From spaetzle to Swabian pasta, Maultaschen, lentils or even a Träubleskuchen. The selection is immense and can also be easily combined with one another.
However, there are many different regions and each family has their own recipes and tricks. They are usually passed on from generation to generation and are mostly cooked the same way. Like mine. My family comes from the Black Forest on my mother's side, from the Allgäu on my father's side and my husband comes from the Swabian Alb—from the foot of the Alb to be exact.
That's why I have a great fund of the most beautiful regions of Baden-Württemberg, and can therefore fall back on many Swabian recipes. Quasi, the Swabian recipes from all areas of Baden-Württemberg. 🙂
So I wish you lots of fun reading and, above all, discovering!
And I would be super happy if you would cook one or the other dish and let me know.
My favourite Swabian recipes:
The classic of Swabian cuisine is of course spaetzle. Which can also be prepared as a supply, and then you can conjure up so many different dishes with it, i.e., food for days! Let yourself be inspired 🙂
Spätzle
A kitchen staple of the Swabian cuisine! Spätzle are super tasty and go with everything!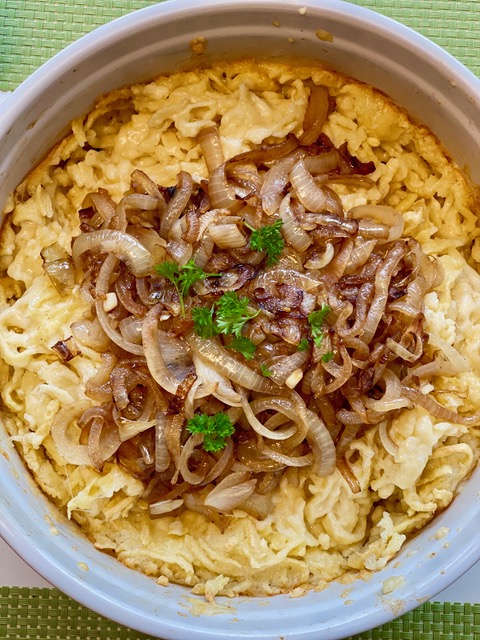 German Kässpätzle
One of my favourite dishes- Kässpätzle. The secret? the cheese mixture.
sour lentils with spätzle
Something hearty and comforting, sour lentils with Spätzle. But don't forget the frankfurters.
Gaisburger Marsch
My favourite stew. Especially if you still have homemade beef broth and boiled beef (Tafelspitz) at home. Plus spaetzle, potatoes and beans. And melted onions for a taste boost.
Swabian Maultaschen
Swabian pasta, similar like big Ravioli.
Taste fantastic with some homemade potato salad.
Swabian Potato salad
Nope, there is no mayonnaise in it. Only broth, vinegar and some spices. Great with Maultaschen or with a Schnitzel.
And of course some Swabian Cakes
Swabian red currant cake
This cake just tastes like at home with Grandma. Absolutely love it.
Plum cake with crumbles
Perfect for late summer/autumn. And there never can be enough crumbles.
As you can see, there are so many Swabian recipes in this collection! Keep on coming back, as I will update it regularly.
love, sabrina x