Are you in need for an apple cake recipe? Maybe one with vanilla custard? Basically an Apple Custard Cake?
And it should tick all of these boxes:
Apples?
Vanilla custard?
Short crust?
Whipped cream, topped with cinnamon?
You can check all your boxes right now! Woohoo!
But I seriously have to warn you as there is a high chance that you will get addicted to this beautiful apple cake!
I know someone who once made it at least 5 weekends in a row, as everyone requested this Apple Custard Cake when they visited her. OK, and because she is addicted to this cake. Seriously. 😉
Since everyone who came to visit wanted exactly this apple pudding cake! Well, and if not, she made it anyway because she's addicted to that apple pie! 🙂
Or shouldn't I rather say apple pie with vanilla pudding, whipped cream and cinnamon to this apple cake? Hm, no, I'd rather not, because apple pie sounds so complicated.
And this delicious apple cake really isn't. But it sure is delicious. Really delicious.
What makes this Apple Custard Cake so special?
It's the cinnamon. Cinnamon and apples and whipped cream in combination is just too good to be true. 😉 Ok and the custard as well. Vanilla Custard to be precise.
The Apple custard cream topped with cinnamon makes it so delicious, and it actually is fairly simple to make.
You only need to ensure to let it cool down properly for maximum flavour.
So best is to prepare it in the morning and to enjoy in the afternoon. Or even the next day when there is something left, which I highly doubt, just out of experience.
How to make this cool apple cake?
It's actually fairly simple, but is for sure a showstopper on every coffee table.
And the apple custard cream cake is not as difficult to bake as it seems at first glance.
First you prepare the shortcrust pastry and while the dough is resting in the fridge you can peel and cut the apples.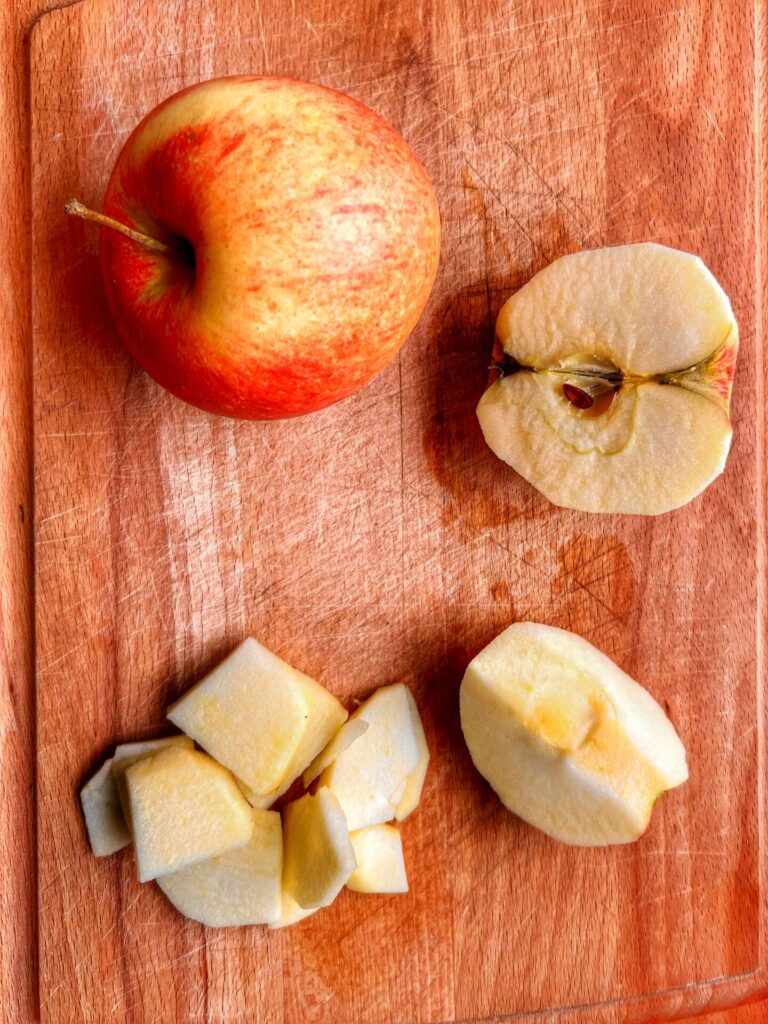 And that's how you cut your apples:
Peel the apple, then cut in half and then into quarters. Remove the apple core and simply cut off thin slices.
After you have rolled out the dough, all you have to do is prepare the pudding/custard with apple juice as described in the recipe below. Add the apple slices, place in your spring form baking pan on the rolled out shortcrust pastry and put everything in the oven and bake.
Then, as soon as the cake has cooled, add the whipped cream and refrigerate again.
That's it in the short form. 😉
And if I baked the cake the day before, then I only put the whipped cream on the cake just before serving.
Therefore, the cake is also great to prepare because it tastes almost a tad better because it is so beautifully infused. Oh, and it would also work great for your next thanksgiving dinner as it is so easy to prepare in advance.
Another small tip:
I still take a handful of breadcrumbs and put them between the shortcrust pastry and the apple vanilla pudding mixture so that the dough doesn't get soggy. But don't worry, if you don't have any breadcrumbs on hand, you can simply crumble up some lady fingers or butter biscuits and use them instead.
Enjoy baking the apple custard cake!
love,
sabrina x
If you are looking for another apple recipe-why don't you try out my homemade apple sauce? It's sooo tasty!
Apple Custard Cake
a showstopper on every coffee table!
moderate
30 minutes

30 minutes

1 hours

2 hours
Shortbread Base
200 g
flour
75 g
butter
65 g
sugar
1
egg
1
pinch of salt
2
tsp baking soda
1 handful bread crumbs
Apple Custard
 1 kg apple if you can, use boskoop apples if you can as they are a bit tangy
750 ml apple juice
150 g sugar
2 packets of Vanilla custard powder
Cream
250 ml whipping cream
1 packed of vanilla sugar
1
generous pinch of cinnamon powder
Steps of preparation
Shortcrust base:
Preheat oven to 175 °C and grease baking form
Add the flour into a mixing bowl.
Cut cold butter into small pieces and add to the flour.
Add sugar, baking soda, salt and the egg and knead to get a smooth ball.
Cover the dough and transfer to the fridge to let it rest for 30 min.
Transfer the dough to a lightly dusted workplace and roll out the dough using a rolling pin. Ensure to roll out the dough big enough to cover the base and the sides of your baking form.
Place the bread crumbs on top of the dough to prevent the cake from getting soggy
Apple custard
Peel and quarter the apples. Cut off small slices of it.
In the meantime, bring the apple juice to boil.
Stir in the sugar and the vanilla custard powder.
Fold the apples carefully to the custard.
Pour the apple custard carefully on top of the dough and breadcrumbs in the baking form and bake for 1 hour at 175 °C.
Let the cake cool down completely.
Cream
Whip the cream with the vanilla sugar and cover the top of the cake with it and dust it with cinnamon.
Let the cake cool down for 2- 3hrs and enjoy!
Can I prepare the Apple cake in advance?
Yes you can! You can prepare the main part of the cake the day before, store it in your fridge overnight, and then simply add the whipped cream and cinnamon just before serving your cake.
You might also be interested in those recipe ideas:
Granola bars are the perfect snack for on the go, in between meals or after…
Christmas is just around the corner again, and what could be nicer than filling the…
Baking bread is definitely an art in itself, but there's nothing better than fresh, crispy,…