Do you know that appetite, when you want a delicious salad, also one that everyone likes, but is not just a salad? So it's filling, healthy and tasty? Well, then my quinoa salad with pistachios and feta is just what you need!
It consists of quinoa, feta, pistachios, chickpeas, cucumber, mint and parsley and simply tastes like summer. And the chickpeas in combination with the quinoa make it a really filling salad too.
The recipe below says to cook the quinoa according to the package directions. However, if you have never cooked quinoa before, then you should definitely read on now:
How to properly cook quinoa:
First, you need to rinse and wash the quinoa thoroughly. This works best with a small sieve. Then you put the quinoa in a small saucepan and add water in a 1:2 ratio of quinoa to water. That means you require 200ml of water for 100g of quinoa. I also like to add a little pinch of salt for the taste.
Then you let the quinoa simmer for about 5 minutes and then turn off the stove. But please leave the pot on the stove as the quinoa will still swell. Stir occasionally with a fork to loosen it up. And just like that will you have after 10 minutes delicious, ready-cooked quinoa. It really is that easy-peasy.
What else do I have to consider:
Actually, not really much! But still, let's have a look!
Maybe don't use all the lemon juice at first, but rather add a little more later when you taste it, depending on your taste and mood. And if you have any left, add the lemon juice to your water with some mint—and you have refreshing water as well.
You can also prepare the quinoa salad in advance, because it still tastes incredibly good the next day. So ideal for a healthy lunch when you need to have a quick lunch.
Ingredients for the quinoa salad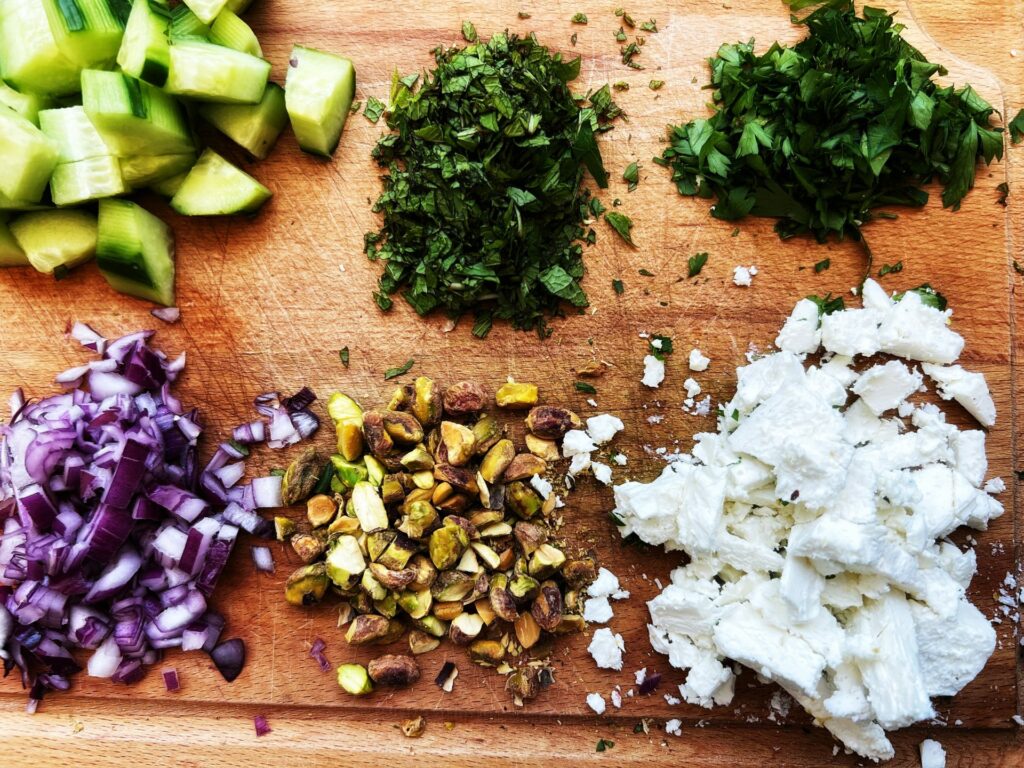 You need quinoa, mint, parsley, chickpeas, pistachio, feta, onion and cucumber for your quinoa salad.
I add chickpeas to fill it up, so you will have a filling salad at your hands.
And if you are still looking for other amazing filling salads, have a look here .
love,
sabrina x
Quinoa salad with feta and pistachio
healthy and tasty!
simple
| | |
| --- | --- |
| 100 g | quinoa |
| 1 | small cucumber |
| 1 | small red onion |
| 30 | grams of pistachios |
| 1 | can of chickpeas |
| 150 g | feta |
| 3 | sprigs of mint |
| 3 | sprigs of parsley |
| 1 | lemon, the juice |
| 4 | Tbsp olive oil |
| | salt & pepper to taste |
Steps of preparation
Cook the quinoa according to package directions and let cool
In the meantime, peel and chop the onion
Wash, peel and chop the cucumber
Chop parsley and mint
Roughly chop the pistachios
Cut feta cheese into small pieces
Squeeze lemon
Put the quinoa and feta in the salad bowl and mix with the remaining ingredients
Season with salt and pepper and enjoy
some more vegetarian recipe ideas